Wattius offers a Battery Management product portfolio designed for easy customer integration, expanded interface and configuration options and state-of-the-art measurement and protection performance.
Multiple hardware options are available to best suit your battery architecture, all compatible with the wBMS-Toolkit software for monitoring and extended configuration possibilities.
Plug and play solution for multiple battery applications.
Configuration of >200 parameters using the free wBMS-Toolkit software.
Same software platform compatible with multiple hardware models.
Top-spec performance across the range, including IEC61000, ISO26262 and EN50178 compatible implementations.
Compact 24-cell Battery Management System
24-cell BMS designed to meet all relevant industry requirements such as the ISO26262/IEC61508 and provides reinforced isolation according to EN50178. The wBMS-R24 provides state-of-the-art measurement and protection performance, high accuracy SoC estimation and extended onboard diagnostics, all in a compact 150 x 70 mm package.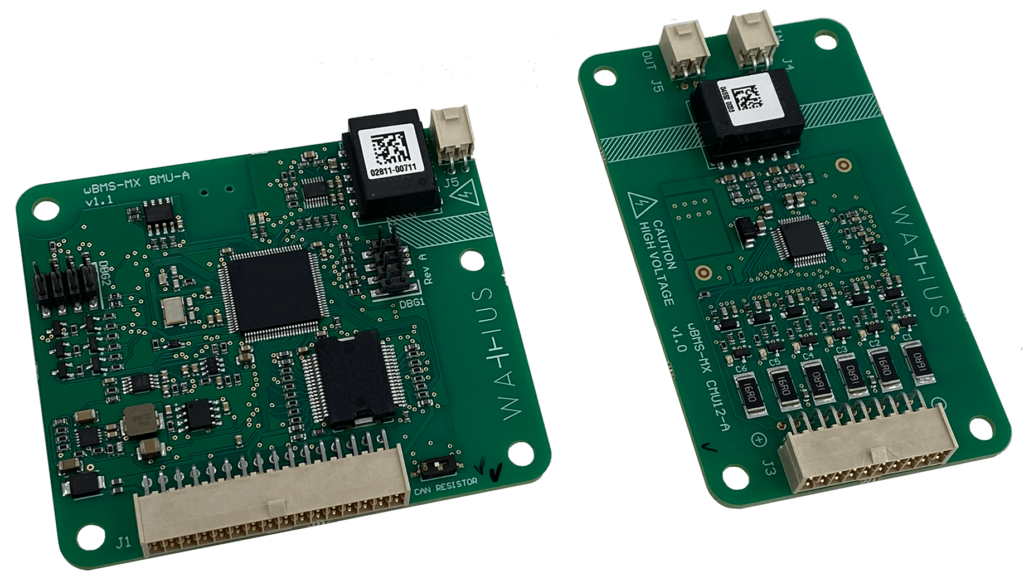 Distributed high-voltage Battery Management System
The Wattius wBMS-MX is a distributed Battery Management System developed to work with high-voltage batteries up to 800V. This system is composed by the BMU (Battery Monitoring Unit) and CMU12s (Cell Monitoring Units, each for up to 12 cells). Each BMU supports up to 24 CMU12s for a total of 288 cells in series.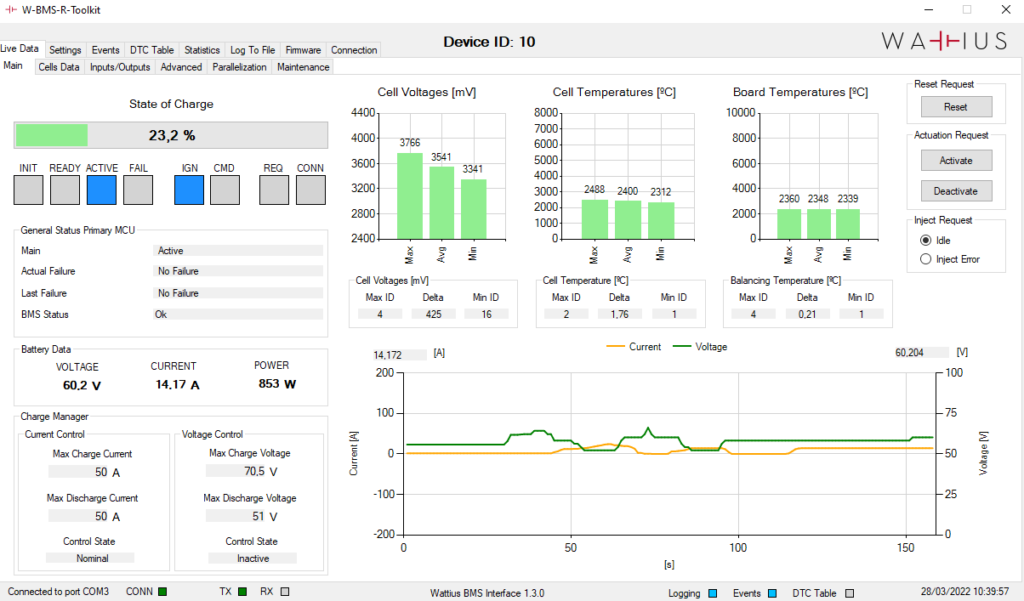 PC software to monitor and configure Wattius BMS
The wBMS-Toolkit is a free Windows PC software that enables live BMS data monitoring, advanced configuration of over 200 parameters and data logging and analysis. It can be used through the multiple BMS interfaces available, like USB, Bluetooth or CAN.
Compact 36-cell Battery Management System
Similar to wBMS-R24, with support for up to 36 cells.
Coming Q3 2023.
All-in-One 18-cell Battery Management System
Coming in 2024